You are bidding on a huge lot of Teenage Mutant Ninja Turtles (late 80's-early 90's) toys. This is great if you are a TMNT fan or if you are a collector of Turtle or classic toys. These toys include action figures with their respective weapons and accessories and also vehicles and playsets. I do have some of the original boxes for certain vehicles and playsets.

I will now list the names of everything that is in this entire set. If there are any parts missing or problems with anything, I will be sure to mention it below. Please be aware that I may have forgotten to name a certain problem or a specific missing part below. Also note that all of the following have been used and played with before so they may show some wear and tear such as paint missing or stickers wearing away, etc. I have many, if not all, weapons and accessories for all of the action figures. I have them stored in a separate sealed container. If you have any further questions or concerns, please contact me before you bid.

Action Figures Include:

Mutatin' Bebop

Super Shredder

Bebop

Shredder

Mutatin' Splinter

Michaelangelo w/Storage Shell

Leonardo

Metalhead

Bebop

Movie Star Don

Rahzar

Chrome Dome

Mutatin' Raphael

Dirtbag

Don, The Undercover Turtle

Mutatin' Donatello

Slash - Right arm from elbow to hand is broken off but included

Mutatin' Leonardo

Rat King

Tokka

Talkin' Donatello - With 3 talking strips. They do not appear to work very well though.

Rocksteady

Raphael - Bandana on back of head is broken.

Mondo Gecko

Groundchuck

Usagi Yojimbo

Mutagen Man

Rock 'N Roll Michaelangelo

Fugitoid

General Traag

Casey Jones

Triceraton - Tail appears to be broken.

Michaelangelo

Splinter

Muckman

Scumbug

3 Identical Foot Soldiers

Donatello

Donatello w/Storage Shell

2 Identical Krangs w/Mini Robotic Bodies

Sewer Swimmin' Donatello

Krang's Android Body - Little fork antenna on top is broken off
Vehicles & Playsets Include:
Sewer Playset (Comes w/original box) - Missing spiked purple ball.


Sewer Sub (Comes w/original box) - Nothing appears to be missing or wrong.


Shreddermobile (Comes w/original box) - A spiked hubcap is missing on one of the rear tires.


Mutant Module (Comes w/original box) - Missing one of the very tiny spikes/drills on the front of it. All of the rest of them are there though.


Leo's Jolly Turtle Tubboat (Comes w/original box) - The pole that holds the flag is broken but can be glued back together.


Pizza Thrower (Comes w/original box) - Nothing is missing however, I have not tested this to see if it works. It needs batteries to operate.


Turtle Blimp (Comes w/original box) - Nothing appears to be missing. The blimp still appears to hold air without any leaks what-so-ever.


2 Oozey's (One comes w/original box) - Nothing appears to be missing for one of them. For the other one 3 parts appear to be missing.


Turtlecycle (Comes w/original box) - I cannot find the actual cycle itself all I could find is the side car and trash can lid that came with it.


Footcruiser - Nothing appears to be missing or wrong.


Double Barreled Plunger Gun - Missing 2 front plastic turtle shields.


Turtle Party Wagon - Missing mini-satellite dish that goes on top and is also missing one bomb.


Technodrome - Nothing appears to be missing or wrong.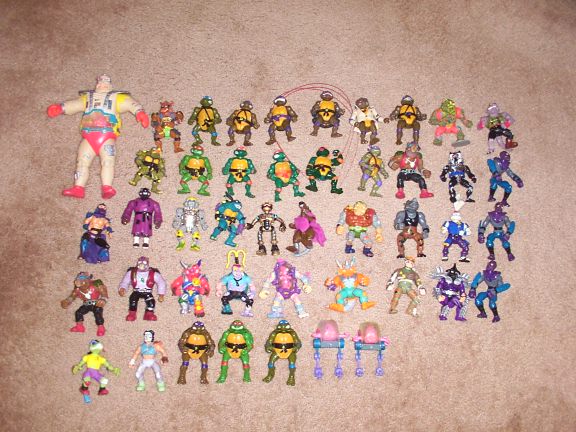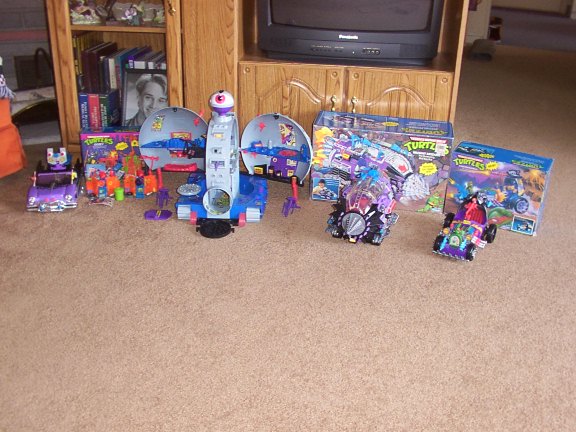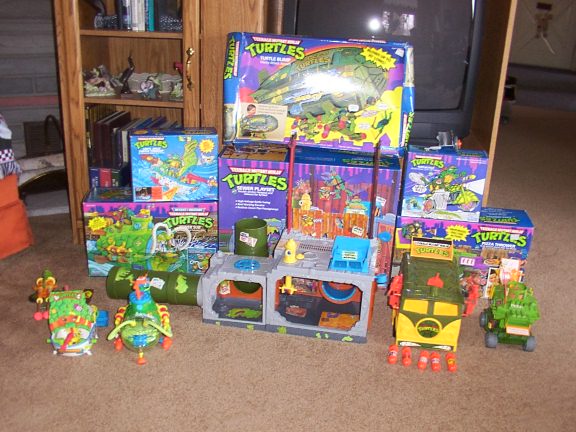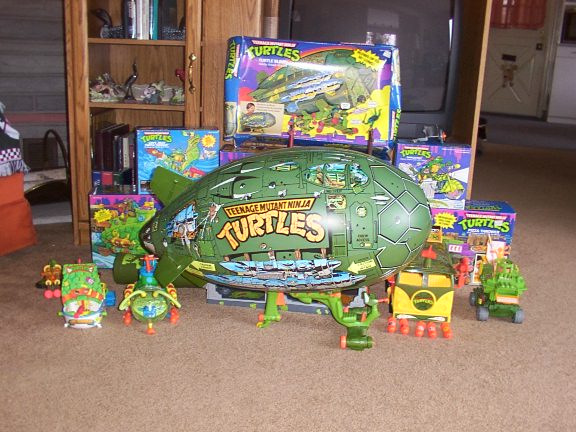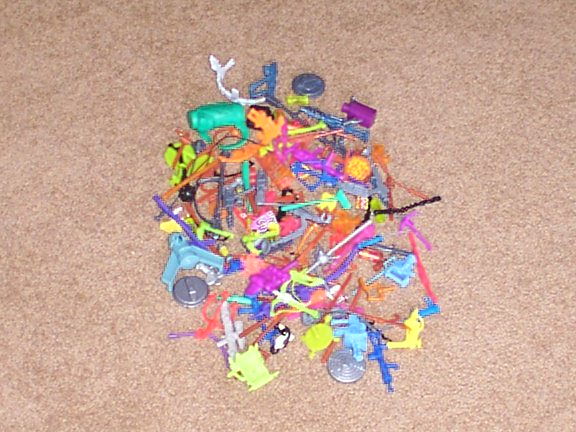 I may have missed naming some missing items or parts from any of the above items, so if you do bid and win and after I ship out the items and you receive them, do not tell me that I forgot to mention something. There will be NO RETURNS after you receive the items. NO EXCEPTIONS!

I will only accept Money Orders or Checks as a form of payment. I will also only ship to the Continental United States (48 States only). If I get a check you will have to wait 7-10 days for the check to clear before I ship the items. Buyer is responsible for paying shipping charges. I will NOT be held responsible for any lost or damaged items during shipping so insurance is optional. What you have read and what you see is what you get so there will be NO RETURNS. NO EXCEPTIONS! Finally, I will only sell everything here as an entire set. Nothing will be sold separately or individually.

If you have any further questions, concerns, or comments please contact me and I'll try to help you out ASAP!

Serious bidders only please! Good luck bidding!

Thanks for looking!